Church in a Pub?
On a Tuesday morning we have our weekly coffee morning.
The first Tuesday of the month we meet at Church in the Father's Living Room. The remaining Tuesdays we hang out in The Wye Bridge House, our local Wetherspoons.
The meeting time is 9:30am – 11:00am. The first half hour we call 'Time for God', where we take time for a meditation or a talk from the Bible to help focus our day. It's an informal, friendly group and we are seeking to be intentional in how we make space for God's love to be shown in the community… this is 'Hosting the Presence' in a pub!
Any questions call Ollie on 07985 771527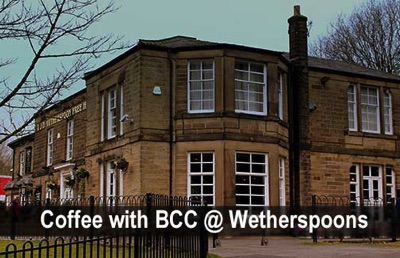 Tuesday Evening Life Group
We meet once a fortnight on a Tuesday evening to share the Scriptures together. It's good food for the soul. We start at 8:15pm and finish by 9.15pm. Perfect times for the busy working week. We meet in our home - it's always a pleasure to welcome people in to look into God's Word. What treasure we can find as we dig deep together. Come and join us. You're welcome anytime.
Beryl and Tim Horne:
More information: 01298 73920